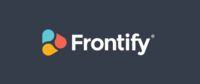 Frontify is a fast-growing company based in St. Gallen (Switzerland) with 90 people currently on board. We create an all-in-one brand management software, increasing brand consistency through centralized platform collaboration – for big businesses and small.
Serious business doesn't have to be serious. We believe in efficiency, simplicity, and making great things happen – together. Be a part of our journey.
Sales Admin
Background:

Our company is growing quickly, and our Sales team is no exception. Since they've got a lot of projects on their desk already, we're looking for a motivated person to help them to tackle their daily growing "to do" list; someone with a can-do, pragmatic attitude. Could you be the one to support the Sales team with daily efforts and beyond? 

Your team:

Can you relate to the stereotypical salesperson, doing anything for commission? No? Good, because neither can we. Sales at Frontify is a bit different – more consultative, no commission, and lots of specialties. Our sales team currently consists of around 30 people: our legal team, the Sales Ops, the Sales Reps, and the Account Executives.

 

You'll do:

General support in administrative and organizational tasks
Document internal processes
Compile sales documents
Handle postsale processes
Provide support for the different sales country teams (prepare documents for customers, etc.)
Other things you'll come up with that we haven't thought of yet
Some fancy things you might bring to the table: 

English (min. C1) | Commercial education or a degree in any field | Some relevant work experience | Organizing skills | An affinity for SaaS and/or tech savviness.

You are:

Authentic | Passionate about the digital world and sales | Self-motivated | Open, curious, and willing to learn | A pragmatic doer | Humble enough to see value in supporting others.
Let's get to the good stuff already, right? We'll give you:

A place to have an impact and get things done.
An opportunity to learn and grow with the company.
Flexibility to enjoy life outside of the office.
Colleagues that feel like family.
A cozy place among the mountains.


How to get to know each other?

Apply online. You'll get an answer within 3 days.
20' video call.
Coffee in our office.
Half a day with the team.
The decision.
Arbeitsort

9000 St. Gallen
St. Gallen
9000
St. Gallen